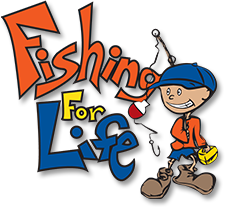 From the Fishing for Life website:
Tom Goodrich was sitting in an Army tent in sweltering, dusty Afghanistan, typing an e-mail to his family when he got a message from God. It was a feeling in his head and his heart that he didn't understand at first. Something about 10,000 kids.

At the time, the Army captain was writing a book for his son and thought, "Cool — 10,000 kids will read this book." He meditated on it; God elaborated. Goodrich discerned that he was supposed to go home and motivate 10,000 kids to raise money for the inner city.
Today, Fishing for Life runs several fundraising events throughout the year.  I help with the Holes for Heroes event on the first Saturday every February.
Holes 4 Heroes is a special Ice Fishing Contest designed to honor our military. Proceeds support the ministries of Fishing for Life.
At Holes 4 Heroes, we work with all branches of the military to honor our troops. We set up a unique "Hole of Honor" where families of deployed soldiers can ice fish for free while being linked via video to their beloved soldier. We also stream event highlights over the Internet and facilitate the Saturday afternoon radio show from AM1280, The Patriot.
Juggling all those Internet data streams on top of the ice requires lots of technology and coordination.  That's what I do.
This is one of the coolest events in the United States.  In more ways than one.  Overheating equipment has never been a problem here.
A special thanks to Nextera Telecom for bringing wireless Internet out onto the ice every year.
Holes for Heroes is growing in popularity and attracting local TV coverage.  Here are highlights from 2017, 2016, and 2015.  Here is a page with a video and pictures from the 2014 event.  Here is a piece from WCCO TV in Minneapolis from the 2013 event.  Here is a WCCO TV piece from the 2012 event.
If you want to help out with any Fishing for Life events or if you want to donate, just fill out the contact form in the sidebar and let me know.  I'll put you in touch with the right people.